What's in a Happier Parent's Chocolate bar?
Preorder How to Be a Happier Parent and you could win a Happier Parent's Chocolate Swag Bag and other bonuses too (more information below)!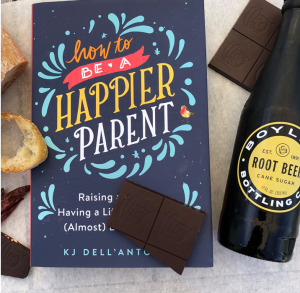 The chocolate geniuses at Theo, the first fair trade and organic chocolate factory in the US, know how to make a great bar. But only we can tell them which one makes parents happiest. Anyone can vote.
But only those who pre-order How to Be a Happier Parent get to enter to win a Happier Parent swag bag—including, of course, the chosen Happier Parent chocolate bar—after the book comes out. (I've got 100, and we'll randomly award them according to some TBD system depending on how many names end up in the hat.)
So now that you've voted, and your mouth is watering, consider this: as a longtime journalist and the former lead editor of the New York Times' Motherlode blog, I asked and answered a lot of questions about parenting. But I was most intrigued by this one: Why isn't this any fun?
How to Be a Happier Parent is my answer to this question—and a practical, thoroughly researched guide to bringing more joy into our everyday family life, not by doing more (please, no) but by doing things differently. Pre-order now, and, yes, you'll get a good shot at that chocolate bar—and three other bonuses:
Bonus #1: A free photo album from Chatbooks
What could make a parent happier than a photo book filled with favorite pix? Chatbooks is the photobook that makes itself. Just connect your phone, and the Chatbooks app finds your best photos, excludes duplicates and screen shots and fills a book for you to edit. It's that easy, and the first 1,000 people to pre-order the book will get a code good for a free Chatbook with free shipping—or $15 towards one of the bigger books if you don't go basic.
Bonus #2: Happier Mornings printables
What's the first chapter of How to Be a Happier Parent? Mornings. Because, as I say in the first line, mornings are the worst. Pre-order the book, and get a free downloadable One-Page Guide to Happier Mornings, with a bonus printable to hang up in your kids' bathroom: 10 Snuggly Reasons to Get Lots of Sleep. (Seriously, we need to sell our kids on sleep—and research shows teaching them why sleep matters works! A version of this has hung in my kids' bathroom for years.)
Bonus #3: Virtual book group
Pre-order copies for your whole book group (6 or more) and I'll virtually come chat. If you have, say, one of those big rolling bots, I will happily inhabit that—or we could take the more normally accepted Facetime or Skype route.
Getting the bonuses is simple.
Pre-order any version of the book at whatever retailer you prefer (Your local bookseller, Indiebound, Amazon or Barnes & Noble).
Forward your receipt to happierparent@gmail.com.
Check your inbox for a link to instantly access your bonuses.
That's it!
If you love the idea of a Happier Parent Chocolate Bar, please share. Click here to share this page on Facebook. (We'll even suggest a post for you: I voted FILL IN CHOCOLATE CHOICE HERE because YOU BETTER HAVE A REASON. What do you think is in a Happier Parent's chocolate bar?)
Or here for a fun, easy-to-edit tweet.