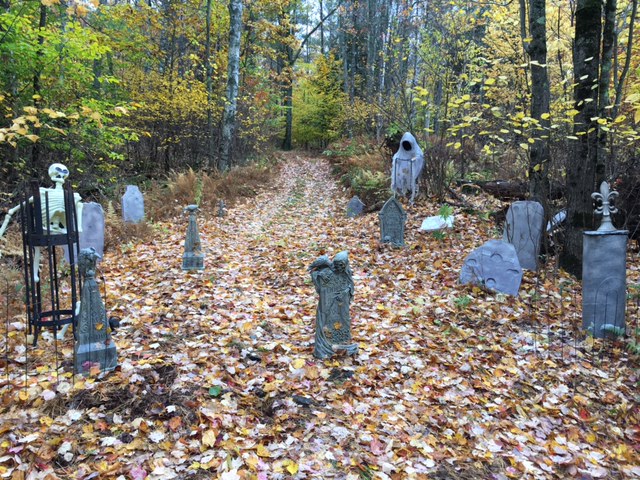 Today is one of my favorite days of the year.
I mean, it's nothing special, as a day. But it's the Monday after we threw our big annual Halloween party, an all out effort between two families and with the help of a whole bunch of others to create a "Spooky Trail" that about 30 kids walk in groups of 2-4, hopefully in a state of pleasurable terror. You can catch a glimpse of the trail above (after dark, that graveyard was occupied by a couple of sneaky spooks). We serve food and treats (mostly store-bought) and after families arrive at the party, the adults head out to their assigned haunting spots before the kids begin.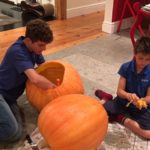 I love throwing the party (although I could never do it without the help of my spooking friend Suzi). I love the pumpkin carving, the planning, the setting up of the spook spots, the assigning of roles (who among our friends makes a good mad doctor? who can hold a pose as the oh-my-gosh-it's-real scarecrow?).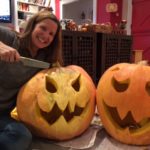 This year, my oldest son and Suzi's youngest daughter graduated to spooking after nine years of being spooked, which was extremely fun. We went over the top with their help; there were chain saws and a fortune teller and the longest trail we've ever done.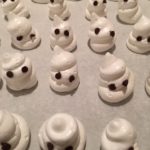 Standing in the woods (holding a white balloon with tiny glow sticks inside and a ghost face, one of about 8 bobbing around in the woods but only one of two that would turn and follow you up the trail), I heard the kids walk by, declaring themselves terrified or speculating about what the balloons were or talking about the last scares. I could hear them, too, shrieking as in a final blow two killer clowns leapt out at them as they collected candy from a table labeled "You're Done!" and "The End" (you should really always consider the possibility of multiple meanings at a writer's halloween party.)
It was fun.
And now it's over. In some ways, that's a let down, but in most, it provides a deep sense of satisfaction. There's so much effort in that party, more than I put into anything else this season. Now I can settle back and enjoy everything that's coming: real Halloween (we still have costumes to create!), driving to hockey games and tournaments without the sense that I really need to be somewhere else doing something else, the catered holiday party we give every year for which I do little beyond moving the dining room chairs away from the table, Thanksgiving, which I am not hosting, holiday concerts which I will not volunteer for, our week of doing-something-together-every-night of Hanukkah, holiday shopping, putting up the tree…
It's such a rich and wonderful and solid season we are going into. I know some people find it depressing, and there are elements of it that pull me down too, but there is so much to look forward to right now, as we're just at that moment when the year has settled in and the kids have found their places in their school year. So many good solid work days. So many things to do with family. So much being and living and doing.
Of course it won't all be good. There will be yelling (there was already yelling this morning). There will be fights and accidents and weeks when everyone is barfing, and the run-up to Thanksgiving travel will not be fun because it never is. There will be times when I make the classic mistake of packing so much in that it all becomes a chore and a day that is supposed to be fun becomes nothing but a series of disastrous transitions as we drag kids away from one thing they want to do to another thing we want to do and just can't quite see why we're not having a good time.
Even with all that, this, to me, is the meat of the year. I love spring and summer and early fall but this season is so rich and yet so contained. Summer, especially, is so fraught for me with the sense that it needs to be seized and grabbed, that we need to be outside at all times and making the most of it that I can scarcely think of it at all without thinking of its end. But this, this season is long and full of things to look forward to without wishing your life away, and it doesn't end with an ending, but with a new beginning and a new year.
I love it.
And I love Halloween, too, and I still have a whole week to enjoy THAT. It's a good day.
---