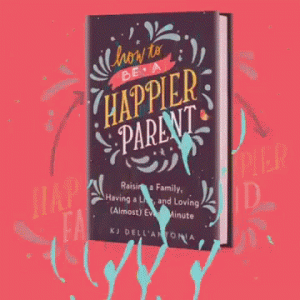 It's here.
Anybody who wants to can just walk into any store or click any link and get How to Be a Happier Parent right now. I'm happy and proud and freaked out all at the same time—which is, I'm told, exactly the state of mind you want to be in before you walk out onto the set of the Today Show.
That's my big news of the day—if you're reading this before the 8:00 hour of the Today Show, tune in and catch me talking happier mornings, homework and discipline with Savannah, Hoda and Craig (whose kids do not have homework yet, the lucky ducks). Apparently we'll be sitting in the "kitchen," with bagels and coffee. So add "reaching for coffee I didn't mean to drink out of habit and then spitting it all over Craig's tie because it won't have my requisite 4 sugars and quarter-cup of milk" to my list of worries.
But mostly, this email is just to say THANK YOU. Thank you for all your support, your messages, the ways you contributed to the book in process. You all are the best.
You've been here through my years at the Times, through the moving Motherlode from The Way We Live Now to Styles to Booming to National to Well. You watched it grow and grow and grow. You were the reasons behind my Motherlode manifesto:
Quality, not quantity.

We start the conversation. We continue the conversation. We do not leap on the bandwagon.

People first, SEO second.  (remember that when you write the hed)

Read the study, then write the article.

If we don't have time to do it right, we don't do it at all.

Right is more important than first.

Our goal: to highlight the plight of the vulnerable and threats to our families. (h/t @sulliview)
I would not be here today, trying not to spill coffee on Savannah and Hoda, if it were not for you. Thank you.
Feel free to wish me a happy book birthday on TWITTER or on FACEBOOK.
KJ
PS You'll also find me live on the NYT Opinion Facebook page sometime between 11:00 and 11:45 a.m., and I'm on all the podcasts this week—I'll share links on social.
PPS If you've already got the book and are ready to do an AMAZON REVIEW, click HERE. Those are really helpful.
PPPS: If you're in or around Boston, you're totally invited to my book party 9/24. CLICK HERE to RSVP.
---