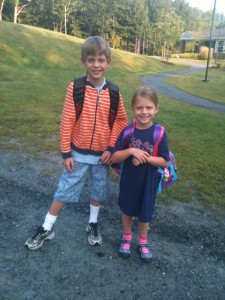 But minor ones…
Let me first say, as an aside, that Blueberry Shrub, a drink I made after reading a wildly enthusiastic description of it in the NYT magazine, tastes very much like something you would make Easter Eggs in. I don't know why I'm surprised…I think I will try using it in salad dressing. That said, I am sitting here drinking it and having Paz flashbacks.
Mistakes: first of all, we allowed I sufficient prep time last night between dinner and bedtime. This may be because Rory and Wyatt were inspired to make lunches too, despite not needing them, and Lily chose to create four individual small sandwich quarters, each separately. Which took time. We then discovered that Sam had not filled out his form for his three favorite books read this summer (which Lily filled out in June). His choices: the assigned book, The Guiness Book of World Records and The Indispensable Calvin and Hobbes, are at least revealing of his character…
Also, Lily received a whole new school kit, if you will: backpack, matching lunchbox and change purse and water bottle and pencil bag…and two new pair of shoes. In my defense, Sam was ASKED. He wanted to use the lunchbox we were given by the hotel we stayed in on the Cape this summer. He got a new backpack last year, and he likes it. He picked pencil bags out at Staples last week. But oh, when he saw that Lily had all of those things plus new clothes and underwear, and he had only new clothes and underwear…well, I felt really, really bad. I put in a speedy and secret call to Rob at work, and he came through with a new and very spiffy water bottle, and I had very excellent labels and tags for each kid, but still. Bad, bad mother. Very bad. He does like shoes….time for a Zappos order.
And speaking of Zappos, we come to mistake three: the clogs.
Oh, they are so cute, the clogs. They are from Hanna Anderson. They are blue patent leather with flowers. They have straps like Mary Janes…but the have wooden heels like clogs. Now, last week saw Lily and I helping build the new "natural playground" at the school, complete with multiple balance beams (took the bark off two of them myself!). Clogs and balance beams….not a good mix. Plus, a quick perusal of the dress code revealed: no clogs! (I suspect that means the backless kind, but….) watching Lily stomp around in the slightly too large clogs, I quickly concluded that they would have to go…but they were so CUTE! So delightfully shiny! Lily and I sat down. We agreed that the clogs could stay, but they would not be school shoes. (A familiar rule, since Crocs are likewise not school shoes). We agreed that I would attempt to locate some shiny blue patent leather sneakers. And all was well. But Rory's clogs–black leopard spots!–well, sadly, they're going back. Better get something new before her school starts next week! Why do so many of my mistakes end at Zappos?
Finally, the fourth mistake, and at least I know I am not the only one who made this one: the special breakfast. Why did I bother? Lily was so excited she was standing in the hall in her shoes with her backpack on half an hour before we needed to go, and Sam wasn't far behind. They did not need a special breakfast. They would have toyed with sawdust and passed on candied bacon. It just didn't matter. Of course, a couple of hours later I was snacking on a delicious blueberry muffin made by my friend Deb fresh this morning. Her kids hadn't touched them either.
Overall, though I have to say the morning was a success. The day was a success. I picked up a delighted Lily and waved Sam off on a playdate. And we're very nearly back in business. Just two more kids to go…and, of course, a whole slew of activities to get rolling and babysitters to line up and structure to put in place. And by the time all that's done, it will be Christmas.
---