Just in case you don't remember what my office looks like, let me post a small refresher photo: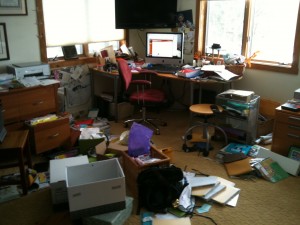 It's probably worse now. I've added a small collection of office-related Christmas gifts, a couple of children's book publishers catalogs, Rosetta Stone: French and a jar of peanut butter. And an unused pull-up—pretty sure that wasn't here before—and assorted additional bits of paper. I have lots of assorted bits of paper. And an empty cookie box and a box of gallon-sized zip lock storage bags.
Sigh.
I've been doing reasonably well at re-organizing the rest of the house. Did the mudroom before Christmas. Did my bedside table last night. Today, I tackled the front of the fridge. But the office is just daunting. I had set a goal of cleaning, then attaching my new back-up disk, backing up and updating all my software, but circumstances requires that the update and backup precede the clean-up, and whoosh–there went part of my incentive, right out the window. I did clear a 5×5 inch space for my mouse, and there's nothing actually on top of my keyboard, for obvious reasons. Â So I can kind of work, up to a point, mostly.
Why am I putting this off? I like organizing. I want it to be done. Or at least, I certainly don't want it to look like this. But it feels like so much, and on top of that, if I'm in here, I should be working. Organizing is procrastinating. Plus it's really going to take so long and, impossible as it seems, it will be worse before it gets better. I have deadlines, I can't afford to put limited babysitting time into this, and while I can clean other things when the kids are home, up here it too tempting for them. Swivel chairs! Buttons! Stuff they haven't touched, handled and flipped over a hundred times!
I can't even bring myself to say when I'll start. This is just not good.
---