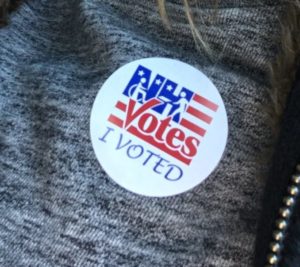 Many parents—Clinton supporters and Trump-opposers, to be precise—woke up Wednesday morning with a problem. After days, weeks, months, even more than a year of demonizing Donald Trump to our children while at the same time reassuring them that he wouldn't win the presidency, a surprising thing happened.
He won.
For those parents, there's a lot to explain, and the questions are unlikely to stop soon. It's not just a question of talking about what it means to have a president-elect with a history of sexism and racism and who has been described as reckless by members of his own party. Those things are hard. But it may be even harder to explain why we, and so many people they trusted—people, organizations, and institutions that we taught them to believe in—were so wrong about his chances. Or to persuade them to trust us again.
I am one of those parents. My phone and my social media have been filled with this question since the unexpected outcome of the election became clear. What to say to the 10-year-old girl who went to sleep in tears in Brooklyn, or the young Muslim boy worried about what would happen with a president who "doesn't like people who look like me?" And filled, too, with broad-brush apologies to our children, texts and letters from parents who feel like they're part of a failure, or maybe just want to distance themselves from this one. We're sorry, they say, that we've given you this, that whatever happens next will lead to your future.
On election night, I found my 15-year-old in a dark room close to midnight, iPhone glowing in his hand. "How could this happen?" he demanded, and I knew he wasn't just asking how Trump could win, but how so much of what I had taught him, about what was important to people and how the world was changing, could have been so far off. I didn't have an answer. I didn't even have an answer for myself.
We do owe our children an apology—but not for the result of this election, a clear victory for a candidate who promised something his opponent couldn't: the hope of change. Instead, we owe them an apology for this whole campaign, for creating an apocalyptic vision of the future that would haunt some of our nation's children no matter who won, be it "madman" or "crook." And we owe our kids an apology for letting those stories drown out our ability help them even try to understand what was really happening in their world.
Nothing is different about our country than it was Tuesday, or the day before, or even the day before that. All that's changed is that we know more about each other than we did then.
More importantly, we know we were wrong about what we thought we knew. We know that whatever tools we're using to evaluate our world are faulty, and that the more we want something to be true, the more we need to question our conclusions. We know that we can be blind and deaf, especially when we are not dumb, except maybe in the derogatory sense of the word. We talked so much, and we thought so hard about what we wanted to say next. We didn't listen.
So where does my son put his trust now? Not in me, I hope. I don't even feel as though I can trust myself. Instead, I can only offer him the journalistic maxim: trust, but verify, and add that where you cannot verify, you should be very aware of the risk of trust. The next news stories he reads, the next conversations he hears around the dinner table, will all be about what lies behind Mr. Trump's victory. Disillusionment? White populism? Or maybe—hope? He knows now what I should have told him before, which is that none of us know as much as we think we do. He (and his sisters and brother) will be hearing it all from a new perspective of doubt, and from a whole lot further down the road towards figuring it out for himself.
---